Global car manufacturer says Australia is failing to lure electric vehicle importers – ABC News
A global car giant says Australia is "missing out" on newer, cheaper electric vehicle models in favour of countries that offer better incentives to motorists, pushing the country further behind the international market. 
Key points:
Nissan Australia is one of the biggest players in Australia's electric vehicle (EV) industry, selling several variants of its compact LEAF model.
But the company's national manager for electrification, Ben Warren, admits Nissan's best models are not coming to Australia.
"When you can only make so many cars, you have to prioritise where you send them," Mr Warren said.
"Naturally the markets that have the more progressive policies and objectives and targets, are the markets that get prioritised over markets like ours."
So does that mean Australian drivers are missing out?
"We absolutely are," Mr Warren said.
One example of that is Nissan's 500km-range, all-wheel-drive Ariya, which is slated for release globally from late 2021.
A spokeswoman for Nissan locally said "at this time [the Ariya] is unconfirmed for Australia."
Mixed EV policy messages from government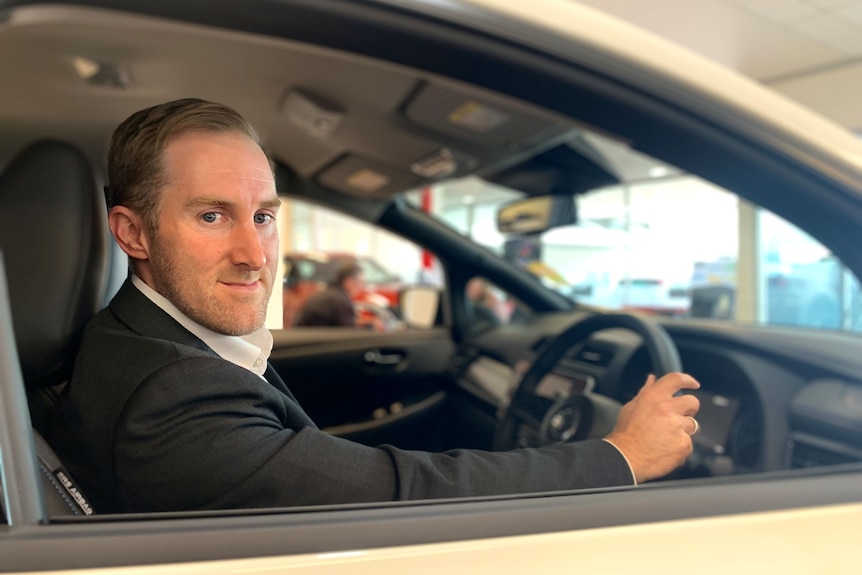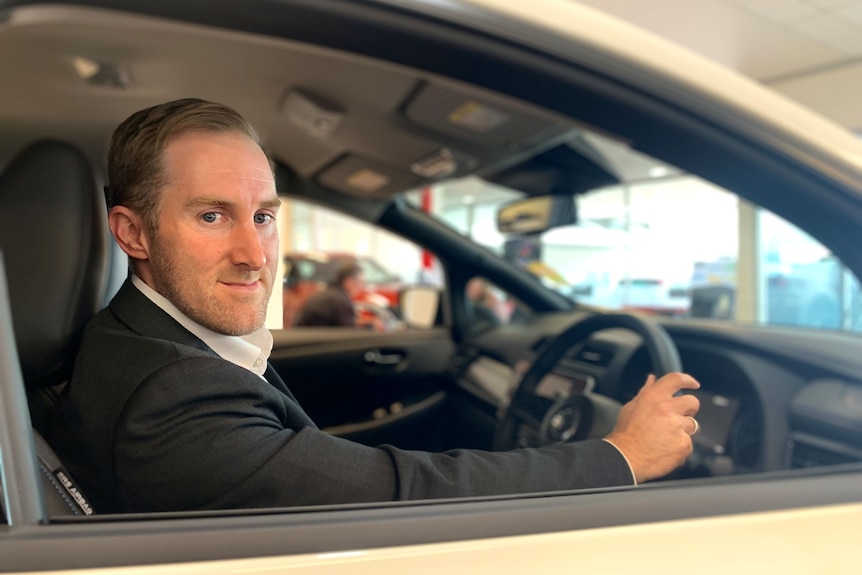 ABC News: Craig Allen
Nissan's comments echo longstanding criticisms from EV advocates: that state, territory and federal governments were sending conflicting messages to manufacturers.
EV policy expert Dr Bjorn Sturmberg said there needed to be clearer government leadership.
"Australia is becoming a bit of a backwater in the range of models of electric vehicles on offer, and we're not getting the latest and greatest of models here," Dr Sturmberg said.
"The fact that Australia has a small number of people in a global market — that hasn't stopped us from being world-leading in adopting solar.
"We're one of the world leaders in adopting home batteries — there's no reason why we can't get the latest and greatest in electric vehicles as well."
Nissan's Ben Warren said Australia only needed to take direction from European nations, which had a dramatically higher uptake of EV technology.
ABC News: Matt Roberts
"When we look at the markets that have made the biggest leaps in recent years, this is off the back of fairly consistent policies and regulatory settings and direction from the government," Mr Warren said.
"Ultimately the opportunity for Australia does require the government … to give the guidance to industry, to give the guidance to consumers.
"We're very much at a tipping point."
Some experts have suggested that banning electric cars would force industry change, but countries like Norway, which is leading the world in electric vehicle take-up, has adopted more subtle measures.
Norway's Ambassador to Australia, Paul Larsen, said his government had offered both carrots and sticks to drive change.
"Last year 60 per cent of new cars sold were electric in Norway — about 60,000 new cars," Mr Larsen said.
"The reason is obviously incentives and disincentives — we have very high taxes on petroleum combustible engine cars."
The Norwegian parliament has set a goal that all new cars sold by 2025 should be zero-emission, offering hefty tax breaks, reduced parking and tolls to drivers of green vehicles.
ACT offering nation-leading incentives to make the switch
ABC News: Matt Roberts
With demand running hot through Europe for electric cars, ACT Climate Change Minister Shane Rattenbury said he understood why car companies were unwilling to take a punt on Australia's slowly growing market.
"I understand why manufacturers have been reluctant … when we saw the campaign that the Federal government ran against electric vehicles, it's not very motivating if you're the importer," Mr Rattenbury said.
"And, of course, in Australia, we haven't seen the incentives that other countries are offering, so that's why our market has been so slow to take off."
ABC News: Mark Moore
The ACT recently announced nation-leading incentives for drivers to make the switch, including interest-free loans of up to $15,000 to purchase an electric vehicle.
Mr Rattenbury said he hoped the incentives would drive stronger consumer demand, that the carmakers couldn't ignore.
There are currently about 950 electric vehicles registered in the ACT, of which 52 are part of the government's own fleet.
'Grey imports' undercutting Australian dealers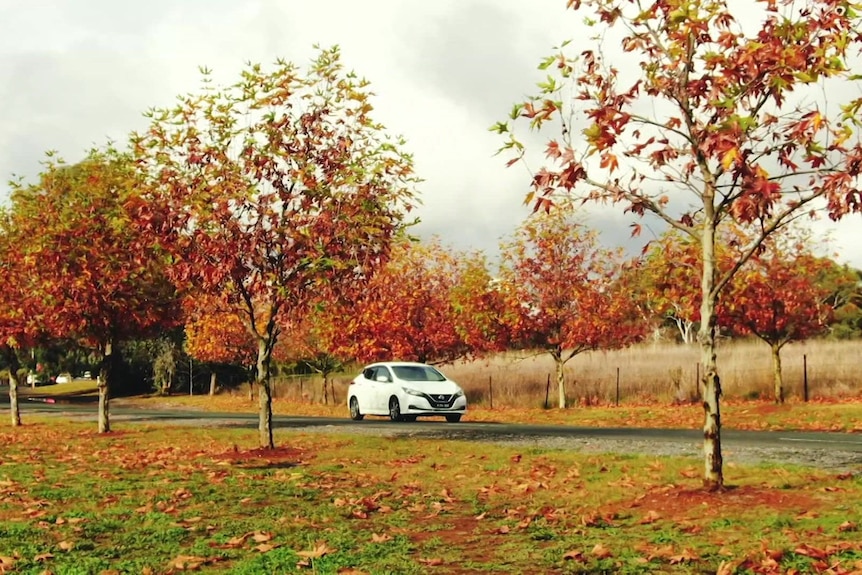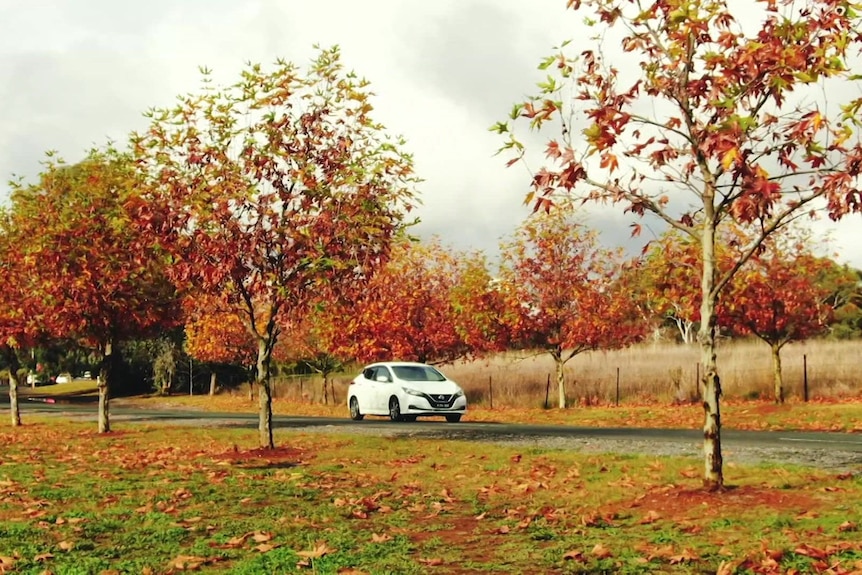 ABC News: Greg Nelson
When Canberra bus driver Shane Maher started pricing Australian EVs he found the upfront cost prohibitive, so decided to think outside the box.
Working through a broker, he ended up purchasing a near-new car at auction in Japan and had it shipped to his home in Canberra.
He said the savings were significant.
"If you were to buy this 'e+ LEAF' from a local Nissan dealer I think including on-road costs would be around $62,000-$63,000," Mr Maher said.
"We imported this a year ago for roughly $49,000."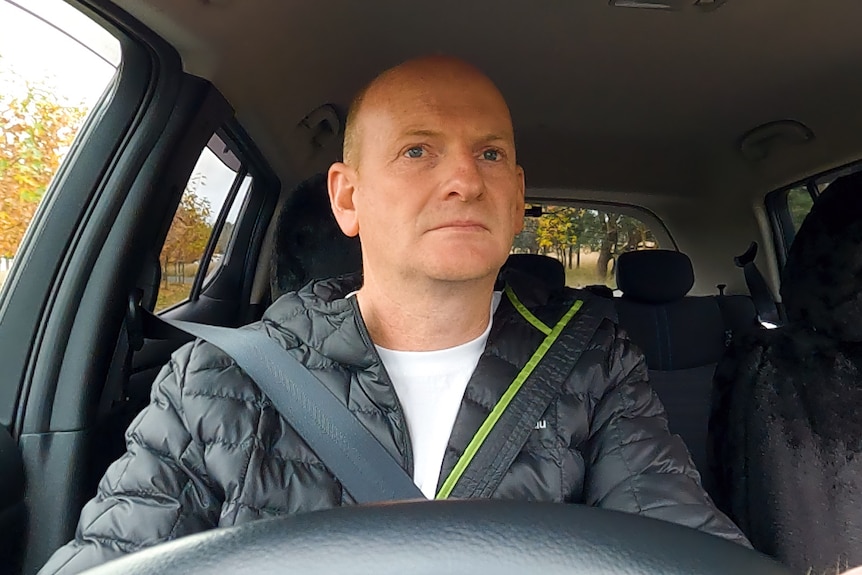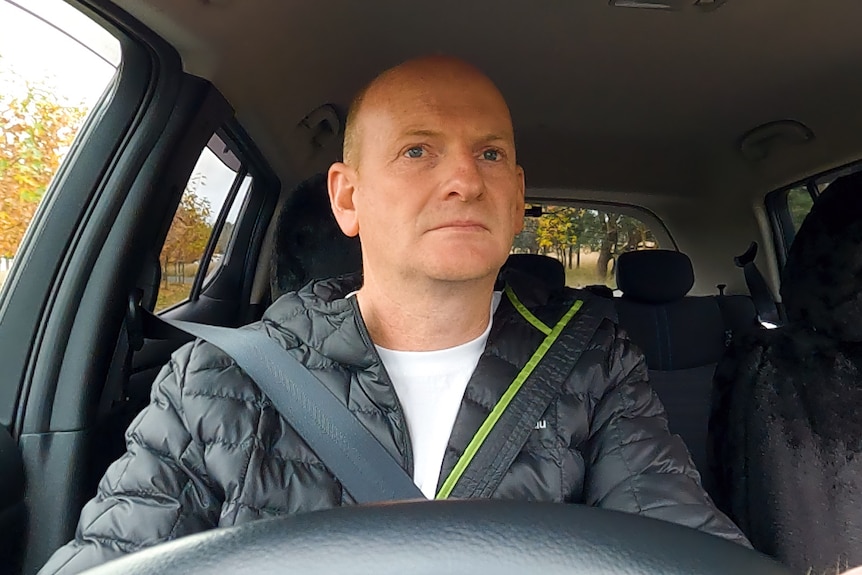 ABC News: Greg Nelson
Mr Maher said the model he imported was not available in Australia, and the model he chose allowed him to have a much greater driving range on a single charge.
"We wanted a large battery — we wanted to give EVs a decent crack. It was either a case of 'go hard, or go home', and we wanted to see the full potential of an electric vehicle.
"In real life, we could probably stretch this car out to about 360 kilometres … but we drive around 300 — 330 kilometres and then give it a quick recharge, just to be safe, just to give us a bit of a buffer."
Nissan's Ben Warren said he understood the temptation for buyers to look overseas.
"Ultimately anyone moving to an electric vehicle, that's a good decision on their behalf," Mr Warren said.
"Looking at those alternative channels obviously comes with risk and reward. So as a consumer you've got to take a balanced view of what you're getting yourself into."
Mr Warren said the main risk was the lack of a manufacturer's warranty when a car was imported from a foreign country.
Turning classics into battery sportscars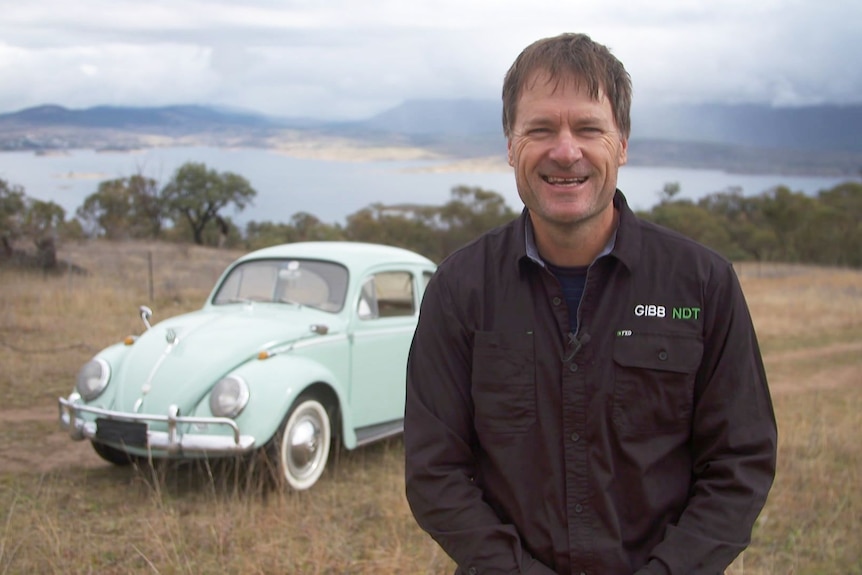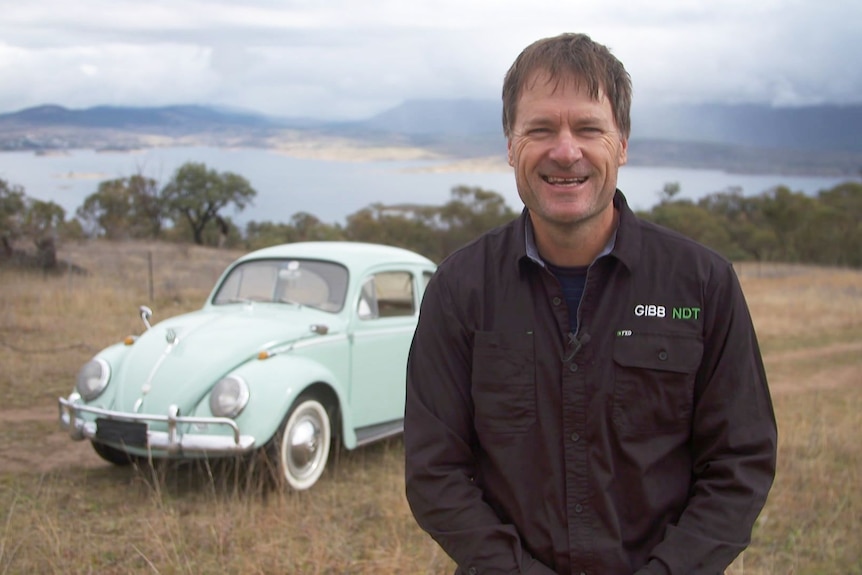 ABC News: Greg Nelson
Despite incentives to encourage people to choose electric cars, the high upfront costs mean EVs are still out of reach for many people.
In the Snowy Mountains district of New South Wales, mechanical engineer Conrad Gibb has been run off his feet, keeping up with demand for motorists wanting to crack the EV market.
But his electric cars looked nothing like the modern models offered by the big manufacturers.
Mr Gibb specialises in retrofitting classic vehicles with supercharged battery power — delivering performance that way exceeded their original specifications.
He said the costs were relatively high, ranging from $30,000 for a DIY battery conversion, to $50,000 for a fully installed service.
But he said the price was not deterring drivers wanting to swap out gas-guzzling engines from their classic Jaguars or VW Kombis, for zero-emission technology.
"We are pretty much all booked until sometime next year, so it's definitely a growth grassroots cottage industry that's going to go 'wow' very soon I feel," Mr Gibb said.
He said there were several reasons people were looking to convert their old clunkers to electric, including environmental benefits and reduced running costs.
"It's just a motor with perhaps half a dozen moving parts and two bearings. There's not a lot to it really," Mr Gibb said.
"And no maintenance and cheap running — our Beetle costs approximately $3.80 per 100 kilometres to run on electricity. It's cheap."
Mr Gibb admitted the purists would never go for it, but most people who drove his converted classics appreciated their vastly improved acceleration.
"That's called the EV grin," Mr Gibb said.
Internet down: Multiple global, Australian news sites down including BBC, New York Times, SMH, Age
The Verge, Financial Times and Bloomberg also experienced outages which lasted almost an hour, while locally, The Guardian, Nine, SMH and The Age were affected, including Channel 10 and 10play online. Users have also reported issues with 7Plus.
The outage has gone as far as sites for the White House along with the UK government's website – gov.UK.
Retail giant Amazon, Reddit, Netflix, Pinterest, Twitch, PayPal and Shopify were also affected.
It appears News Corp sites were unaffected by the outage.
Internet sleuths have suggested a "big attack" but the outage was caused by a data centre provider, San Francisco based Fastly.
Most users were receiving 'Error 503' messages when attempting to access the sites and while a fix has been applied, users have been warned that they may "continue to experience decreased cache hit ratio and increased origin load as global services return".
"When huge outages like this strike the internet, they are generally traced back to some central service provider, such as AWS," said The Verge, which was forced to communicate through Google Docs.
"In this case, it seems the cause of the problem is due to a company called Fastly, which provides CDN (content delivery network) services to many websites.
The Age confirmed that tech teams for Nine publications, "including this masthead, confirmed that the issue was linked to CDN vendor Fastly."
CDNs are "graphically distanced" networks of servers, which "help minimise delays in loading web page content, by reducing the physical distance between the servers and users", according to The Australian's David Swan.
Those servers are located in "data centres" around the world, connected via subsea cables.
"Fastly is one of four hosting service providers that looks after CDNs, Akamai, Cloudflare and Amazon Web Services, are the other three.
On its website, Fastly said: "The issue has been identified and a fix has been applied. Customers may experience increased origin load as global services return."
Sites began to return but Fastly failed to indicate what had happened in the first place.
Lollll Fastly's own blog is down: https://t.co/64uG4GCSXgpic.twitter.com/53nwrR4G7Q
— Rhiannon Williams (@RhiannonJudithW)
Breaking: the internet. Huge parts of the web are currently offline, including Reddit, Twitch, and (regrettably) The Verge. We'll keep you posted 👍
— The Verge (@verge)
Down Detector shows mass outages hitting major platforms all at the same time.
Cloud services like Fastly and AWS could be the root of the problem: pic.twitter.com/1kGWKckivn
— Dexerto (@Dexerto)
Giant dinosaur species found in Australia, among world's largest | History News | Al Jazeera
Palaeontologists in Australia have identified a new species of dinosaur, naming it the Australotitan cooperensis and recognising it not only as the largest to ever roam the continent but also among the biggest in the world.
Australotitan, or the southern titan, was a long-necked sauropod that is estimated to have reached 25-30 metres (82-98 feet) in length and 5-6.5 metres (16-21 feet) in height, making it as long as a basketball court and as high as a two-storey building.
The findings were published in the journal PeerJ on Monday.
"It's been a long time coming, but we are very proud to showcase Australia's largest dinosaur species," said Scott Hocknull, a palaeontologist at the Queensland Museum and a co-author of the study.  "We know it was a plant-eating dinosaur. It had a very long neck and a very long tail and had the look of a typical brachiosaurus. But it was enormous. It was a titanosaurian."
Nicknamed Cooper, after the nearby creek where it was first found in 2006, the dinosaur is estimated to have lived more than 90 million years ago, during the Cretaceous period, and is estimated to have weighed about 67 tonnes.
"These are the largest dinosaurs that ever walked on earth and based on the preserved limb size comparisons, this new titanosaur is estimated to be in the top five largest in the world," said Robyn Mackenzie, the director of the Eromanga Natural History Museum, who first spotted the dinosaur's remains along with her husband on her family farm in southwest Queensland.
Since excavations for dinosaur fossils began in 2005 in the area, known as Eromanga Basin, two other large sauropods have also been discovered. They are nicknamed George and Zac.
"These dinosaur discoveries have opened a whole new world, not just to our family, but to people throughout Australia," Mackenzie was quoted as saying by the 9News broadcaster. "It has been the most enriching journey."
Hocknull told Al Jazeera it had been a "very long and painstaking task" to confirm that Cooper was a new species of dinosaur. The palaeontologists' research relied on 3D scan models of bones to compare the dinosaur with its relatives in Australia and elsewhere in the world.
"When you have a dinosaur bone that weighs 200 kilograms (440 pounds), you can't just put in a car and take them to other museums for comparison. So, we used 3D technology to scan the bones, so that I can go compare them in different museums and different collections," he said.
The process took many years, but over that period Hocknell said: "We have been able to figure out that not only is it different, but it is Australia's largest dinosaur species".
The palaeontologist said the study found that the Australotitan was most closely related to three other sauropods that lived in Australia during the Cretaceous period – the Wintonotitan and the smaller Diamantinasaurus and Savannasaurus sauropods.
"That means they are one big happy family," he said.
The new species also share relations with titanosaurians from South America and Asia, said Hocknell, suggesting they may have travelled to the continent from South America via Antarctica during periods of global warmth.
Or, he said, they might have island-hopped across ancient island archipelagos, which would eventually make up the present-day terrains of Southeast Asia and the Philippines.
South African woman gives birth to 10 babies, breaks Guinness World Record – Trending News News
A woman from South Africa's Gauteng has broken a Guinness World Record as she gave birth to 10 babies at once. The record was previously set by Halima Cisse who gave birth to nine children in Morocco last month.
Gosiame Thamara Sithole's husband Teboho Tsotetsi told Pretoria News that she delivered 10 babies at a hospital in Pretoria on June 7. The doctor, in fact, after medical scans earlier had detected that she will give birth to eight babies, but instead, she delivered seven boys and three girls by Caesarean section.
Gosiame Thamara, who has six-year-old twins, previously told the Pretoria News that her pregnancy was natural.
"It's seven boys and three girls. She was seven months and seven days pregnant. I am happy. I am emotional," Teboho Tsotetsi told Pretoria News.
Before the birth of her babies, Gosiame Thamara Sithole, during an interview with Pretoria News, had said, "I am shocked by my pregnancy. It was tough at the beginning. I was sick. It was hard for me. It's still tough but I am used to it now. I don't feel the pain anymore, but it's still a bit tough. I just pray for God to help me deliver all my children in a healthy condition, and for me and my children to come out alive. I would be pleased about it."
Gosiame Thamara Sithole (37) from Tembisa has given birth to a village breaking a world record with 10 kids at once last night. She delivered 7 boys and 3 girls. A true meaning of aiyate Sione. pic.twitter.com/pK2Bj15ZTm
— Man's NOT Barry Roux (@AdvoBarryRoux)
At first, doctors had said that she was expecting six children (sextuplets). Following several other scans, Gosiame Thamara Sithole was told that she will deliver octuplets, but ultimately, gave birth to 10 children.
Gosiame Thamara Sithole had said that the two babies could not be detected initially because they were inside the wrong tube.
Professor Dini Mawela, deputy head of the school of medicine at the Sefako Makgatho Health Sciences University, said that Sithole's case was rare. It was usually caused by fertility treatments, professor said. However, Sithole had clarified earlier that she was not on fertility treatment.
"It's quite a unique situation. I don't know how often it happens. It's extremely high risk (pregnancy). It's a highly complex and high-risk situation. The danger is that, because there is not enough space in the womb for the children, the tendency is that they will be small. What would happen is that they would take them out pre-term because there is a risk if they keep them longer in there. The babies will come out small, chances of survival compromised. But all this depends on how long she carried them for," Professor Dini Mawela told Pretoria News.